List
Story > NEWS > Detail
[Resource] Community Housing and Shared Economy

Where are you living now? Do you happen to have a meeting with a completely new person in your place? Is it just a private space and a rest space? What do you think about sharing a residential space with others, not with your family?

The above questions are not really about your home. Because I want to know where you live and how it affects community formation. Living together as a community dwelling, a community, has emerged in various forms in each country's history, but the modern world has become a world of individuals with advanced technology, but the community has disappeared.

In the West, urbanization and household differentiation have led to the emergence of co-housing and collective housing as an alternative to modern housing seeking economic and social and cultural benefits through the community. Community housing mitigated a variety of household labor and childcare burdens, such as reducing housing costs through sharing space, co-cultivation of double-income families, and joint eating. Community housing was also suggested as an alternative to the safety of single and elderly households.

And with the privacy of individuals guaranteed, early community housing was formed in the form of cooperative housing, which sought benefits through a common life. It began to be built in Denmark and Sweden in the late 1960s and is now built in various forms in countries such as Canada, Britain, Australia, the United States and Japan. This needs to be understood as a meaningful form of housing from the perspective of 'community recovery'.

Japan has built a public restoration home for the elderly, modeled on a Swedish Collective House, and privately supplied 'Kankanmori' rental housing. A single building is a one-room, two-person, two-person, family-style unit, and has a joint kitchen and dining room, a common living room, a laundry room, a children's play area, and guest room.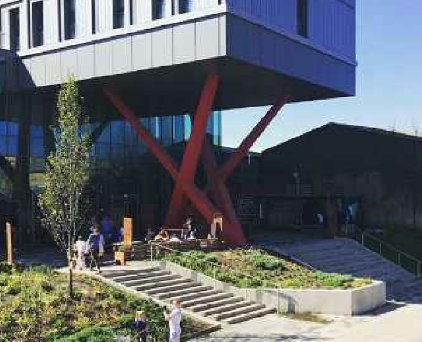 <A Case Study of Large Community Housing in England: Old Oak>

In the U.K. and the U.S., we have presented a variety of examples for young people, and in some cases we have been successful. Rather than focusing on occupancy prices, the quality of the housing environment, such as pleasant space, housing services, and programs, tends to meet the needs and tastes of residents. These are distinct from those built on the basis of Japanese communities, where communities are not formed first and then connected to dwellings, but are already built on a built-in dwelling and participate in a private Dara community.

The Old Oak in the U.K. has 546 rooms, providing not only private rooms and multi-person rooms, but also public facilities such as sports facilities, libraries, spas and cafes, as well as cleaning and washing services. This model ensures that the quality of housing is higher than a certain level while small or single households, rather than low-cost dwellings, pay the proper housing costs.
<A Case Study of Small Community Housing in Japan : LT Tosai>

Let's look at the case in the United States. The U.S.Welive aims to reduce housing costs through co-living, exchange of information through communities, and build communities. Youth households are the main targets of the business. Weib is a subsidiary of a shared property platform and a co-working company called Wework, which has recently begun expanding its community housing business. The demand base is targeted at the Millennium Generation, such as the youth and the work force. The idea is to renovate an apartment in a large city and re-release it as a small residential space for several people, and tenants can choose one or four rooms in a cluster based on the housing costs they pay, and share a kitchen, lounge, and bathroom.

The perception and consensus of 'living together' is not common. Especially in Korea, the concept and consciousness of the community may vary depending on the experience of the community. But as the interest in community housing has increased, we can naturally share a lot of awareness about the community as well as the community as a community unit and as a community. However, when it comes to "working together with neighbors and residents," there are different aspects of community-based relationships, and the process of coordination and agreement is needed before the community can be formed. In Japan, where the Sherhouse was spread around Tokyo in 2010, the concept of sharing was not common because people who lived alone, even if they were cramped or uncomfortable, often thought that they were comfortable rather than living with others.

How about our country? Where do you live? Where do you want to live? The question is whether your sense of community has gone so far as to share your life with someone. At the heart of community housing, it's not a good infrastructure, it's a matter of what the people who live there have in mind. Isn't it a matter of thinking ahead of the ever-expanding community housing?

The above article referred to the Institute of Architectural Urban Space, "A Study on Regional-Specific Community Housing Based on Shared Economy."