List
Story > NEWS > Detail
[Overseas News] the Model City of Shared Economy in England

What image comes to mind when you think of England? Are the images that you used to have before the movie 'Kingsman' or Conan Doyle's 'Sherlock Holmes,' or Agatha Christie's 'Miss Maple' as a mystery?

Apart from the image above, Britain has made many attempts as a testing ground for the shared economy. One of them is the shared economy model city. The shared economy model cities were conducted in two cities, well known in Korea. The first city is Manchester City where soccer player Park Ji-sung played. The second city is the Leeds, which are used by many Internet users, to mean the 'good times'.

Manchester City was selected as a shared economy city for health services in 2015, while Leeds City was selected as a regional cooperative transportation service model in 2016.

So I want to talk about Manchester first. Manchester City does not really mean a single city. There's a large district, made up of 10 cities called Great Manchester, and one of them is Manchester City. Great Manchester has a population of 2.8 million, and Manchester City has a population of 530,000. The British government promoted the Great Manchester Population Health Plan (2017-2021), which focuses on public health services in the region. The UK government has introduced public health-related shared economic cities to Manchester, not elsewhere, due to the presence of more than 200 companies in the field of biotechnology, medicine and healthcare. In cooperation with the British Bureau of Statistics, Manchester City is pushing for data-driven policy decisions based on regional demand for a shared economy and statistics on technical situations. The technical and statistical data needed to stimulate the shared economy is aimed at enhancing the quality of health care that is suitable for the health of more local residents.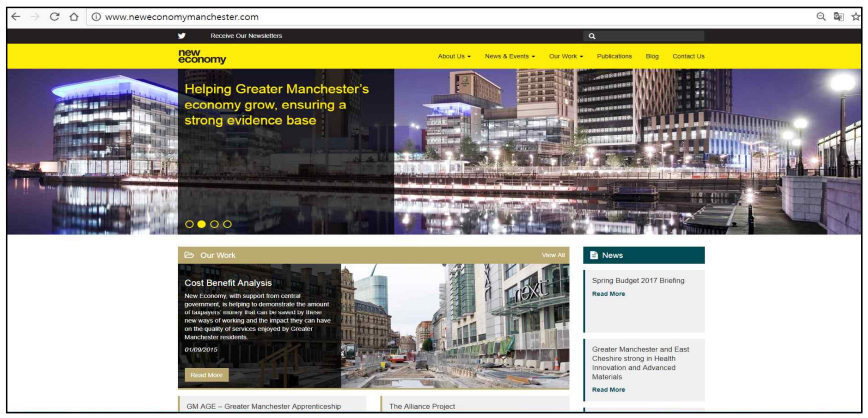 <The New Economy Homepage in Manchester>

In the second city of Leeds, a shared economy is being pushed through the expansion of transportation services based on cooperation with local private companies. The city of Leeds was chosen as a model city for the shared economy in relation to transportation services, and its location was significant. The city of Leeds is located in northeastern England and at the same time is an important place for transportation. And it's a city of 100,000 businesses and three million people.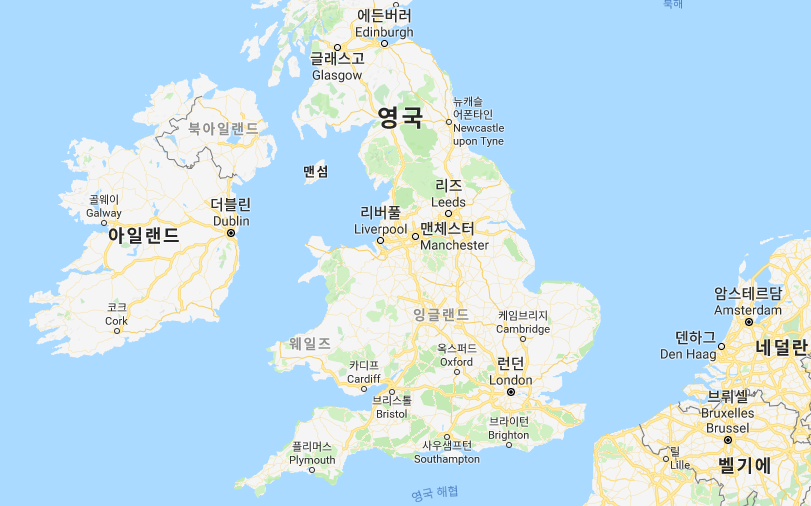 <a British map Photo, Source: Google Maps>

Despite the heavy investment in transportation, the central government has been on the verge of losing control over transportation, but has been selected as a shared economy model city for a revitalization. Here are the details of the shared economy. Replace local vehicles with car-full membership vehicles, provide parking at train stations and downtown areas, and work with the city of Leeds and the city government of West Yorkshire to share equipment.
In order to operate and test the shared economy city of Manchester and Leeds, the British government is making efforts to provide administrative support and to open up incubators and research centers for corporate Incubating. In addition, British government encourage private investment and work with Nesta and Innovation UK to help build a shared economy.

The image of Britain as we know it is a gentleman, a mystery, a soccer player, or someone else's 'leeds period (good times)'. But what about the opportunity to see an innovative image of a shared economy in each city that helps improve the quality of medical services or provide an opportunity for efficient use of idle cars and idle spaces?

This is the [overseas news] of the shared hub.

<Reference: NIA Korea Information Society Agency 'Resolution to Regional Economy and Shared Economy'