List
Story > NEWS > Detail
[News] "Working together, Shared Office"

Korea's GNI, or nominal gross national income per capita, has not surpassed the 30,000-dollar barrier since it surpassed the 20,000-dollar mark in 2006. It's also called a $20,000 trap. There may be various reasons for the introduction of long-term low growth, but the biggest reason may be the sluggish manufacturing industry, which has been the core of domestic economic growth, and the second reason is the sluggish expansion of domestic demand in the service sector, which had low value-added productivity growth compared to employment growth.
Recently, the global economy has been recovering. Not only is there a drop in oil prices, but there are also no international political issues that will shake the world economy. In the meantime, we are looking for a rebound through semiconductor, chemical and auto exports, but we can see some of the limits already. Thus, to overcome the limitations of the Korean economy's export-driven strategy and the structural problems of existing industries, it is time for innovation to change the market paradigm itself rather than just scale expansion. Can a shared economy bring new vitality to the Korean economy today?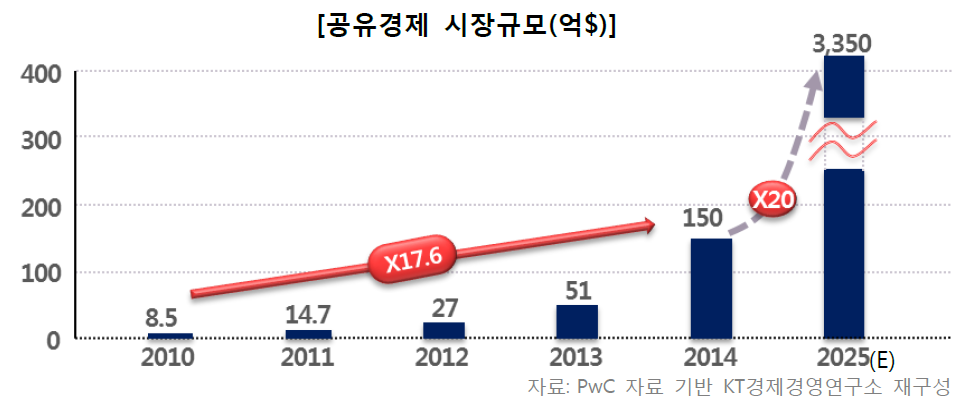 And I'm sure those of you who are reading this have some idea of what a shared economy is. But for those of you who are new to the "shared economy," I'll explain for a moment and move on. Shared economy refers to the economic activity of collaborative consumption that reduces unnecessary waste by sharing and using idle resources that are not utilized after being produced and ultimately contributes to the increase of social common interests. The resources you can share include not only cars, space, and things, but also intangible resources such as talent and time.

The reason for the development and growth of the shared economy is that the society as a whole has shared a perception of reducing overspending and rational consumption activities due to changes in the social background, such as low growth, employment difficulties and household income due to the global economic crisis. The result is an increase in single-person households, a shift in social awareness of shared culture, and the emergence of new industries based on ICT and social media.

As a result of these social changes, new perspectives have begun to emerge about the work environment. Business models have existed in the past to support various tasks by renting buildings or businesses after a long-term lease. This business model was aimed at people who traveled to large cities in the 1980s in the United States. But now we've changed the content and status a little bit. Since the mid-2010s, the office vacancy rate in the traditional rental market has continued to increase, and the number of start-ups and single-person companies that are the main players of the Millennial generation has increased as well as customers' need for low-cost offices. And finally, since it is a "work together" shared office, it has been established as a multi-functional workplace that can have synergies and network effects through community formation.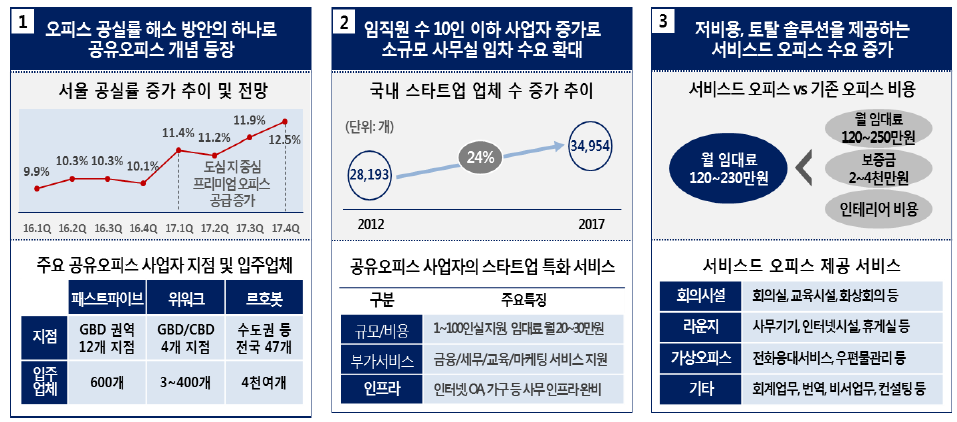 With the recent revitalization of the shared economy, the U.S. leader in the global working space, "work," entered the domestic market in August 2016. In line with the trend of the global shared office market, with the entry of wWork into the domestic shared office market, fierce competition is expected between Korean native shared office companies, foreign companies and large companies. Although Korea's share office market is currently only 60 billion won, it is expected to grow to 770 billion won by 2022 with 63 percent annual growth forecast.

Currently, most of the nation's public office buildings have a vacancy rate of less than 1 percent. As the office vacancy rate in Korea remains around 10%, concerns over vacancy have grown, and the market has changed to an advantageous market for renters. Many buildings seem to be more likely to have a shared office as they are willing to switch to a shared office. But shared offices also have disadvantages. Issues such as increased cost burden for securing capacity, restrictions on use by lease contracts, and invasion of privacy by sharing space. While startups and single-person startups are on the rise, they are relatively scarce compared to the global level, and finally, domestic companies still have a closed corporate culture, which must be overcome.
It still seems that much effort is needed to enable the domestic shared office market to generate economic and social value through sharing and efficient utilization of space, which is the original purpose of the shared economy.

This was [Seoul City News] "Working together, Shared Office."