List
Story > NEWS > Detail
[UNIV Reporters] Sharing Economy Forum - Hancom-mobility, Bandal Company

Not many people are likely to know that there is a "World Sharing Day." The start of "World Sharing Day" was a small event in 2011 called "Sharing Day," inspired by British social enterprise The People Who Share founder Benita Matofska, which is run by an Australian social company. Since then, it has led to "World Sharing Day" and "World Sharing Week" with people interested in sharing.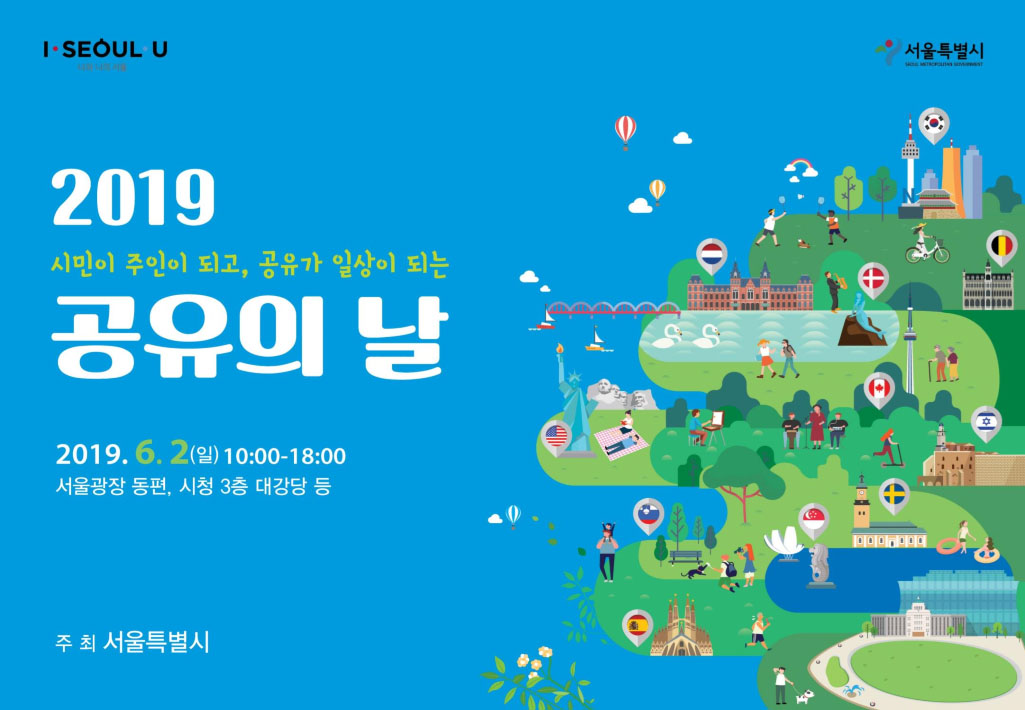 And on June 2, sharing day events were also held at the eastern side of Seoul Plaza and Seoul City Hall to mark "World Sharing Day." Many citizens, as well as officials and experts from shared companies, visited various experience booths run by shared companies or attended a sharing forum. At the forum held in the auditorium on the third floor of the city hall, the case for the city's shared businesses was announced by "HongHap Valley," "Share-IT" "Open Clothing," "Hancom Mobility" and "Bandal Company." The reporter covered the announcements of "Hancom Mobility" and "The Bandal Company."

# 'Hancom mobility''s IoT sharing parking service platform 'MalangMalang Parking Friends'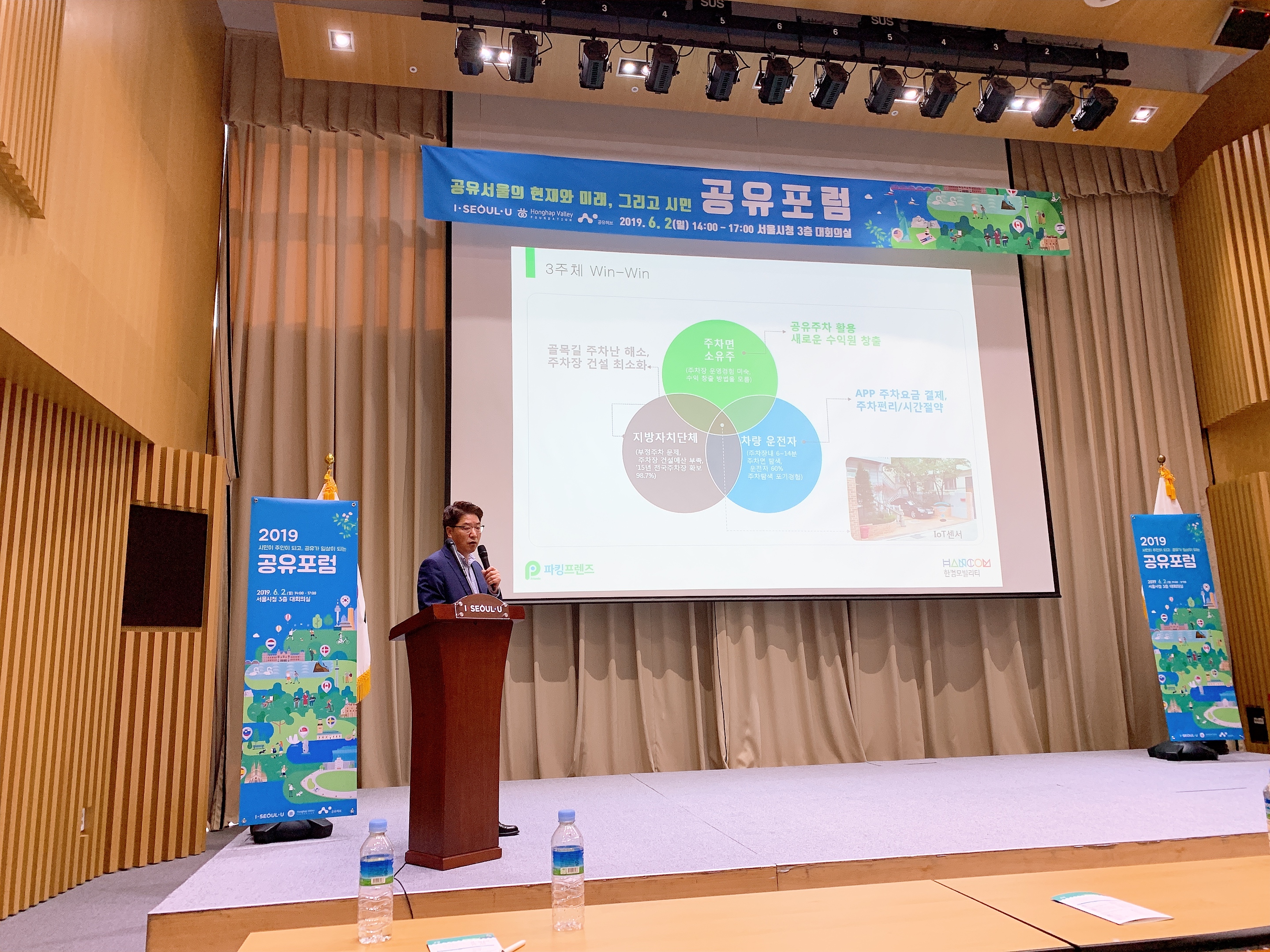 Choi Chun-woo introduced Hancom Mobility, a shared company that wants to solve serious parking problems with "sharing." Hancom Mobility, which started as a startup in 2013, provides Internet of Things shared parking platform through an application called Parking Friends. While cars are growing more and more, parking spaces are rather limited, so as you drive out, you often wander around because there is no parking space. At this time, wouldn't it be possible to solve the problem if people with private parking lots shared the space with others while they didn't use it? Simply put, let's do 'Park Airbnb'.

The application 'parking friends' created from this idea has two versions, one for the parking surface provider and the other for the driver (parking user). The driver is informed of the available parking space in real time through the application and can also book the space for three days in advance. You can also get directions through the navigation link and check the status of your car on the screen after parking. Owners of private parking lots can also see their parking spaces on screen in real time and check the status of imports.

This parking sharing service provided by 'Hancom Mobility' was enabled by IoT technology. It is able to provide real-time parking information by installing IoT radar sensors that are developed through its own technology on the parking surface. In addition to IoT sensors, CCTV, parking surface sign and line marking are also provided as facilities for providing real-time screens. Line marking and signboard have the effect of reducing unauthorized parking by more than 95% and can also be used to crack down on illegal parking.
Parking sharing is not only gives economic benefits to the owner of the parking area, but also serves to provide parking space to the driver, it can reduce various social costs. For example, as I mentioned earlier, solving the problem of non-parking, minimizing the construction of parking lots, and securing big data can help develop self-governance policies.

CEO Choi Chun-woo wrapped up the announcement, expressing his ambition that "Hancom Mobility" will start with a parking share and eventually provide various shared services in the mobility sector, including car-sharing, ride-sharing and electric vehicle sharing.
Hancom Mobility
- CEO : Choi Cheon-woo
- Homepage: http://www.parkingfriends.net/
- Phone: 02-522-6161
- Address: 17th Street, Pangyo-ro, Bundang-gu, Seongnam-si, Gyeonggi-do, 1st floor, 1st-dong, 7th floor of Seven Venture Valley.

# The companion animal and the sweet life, the companion animal care product of the Bandal Company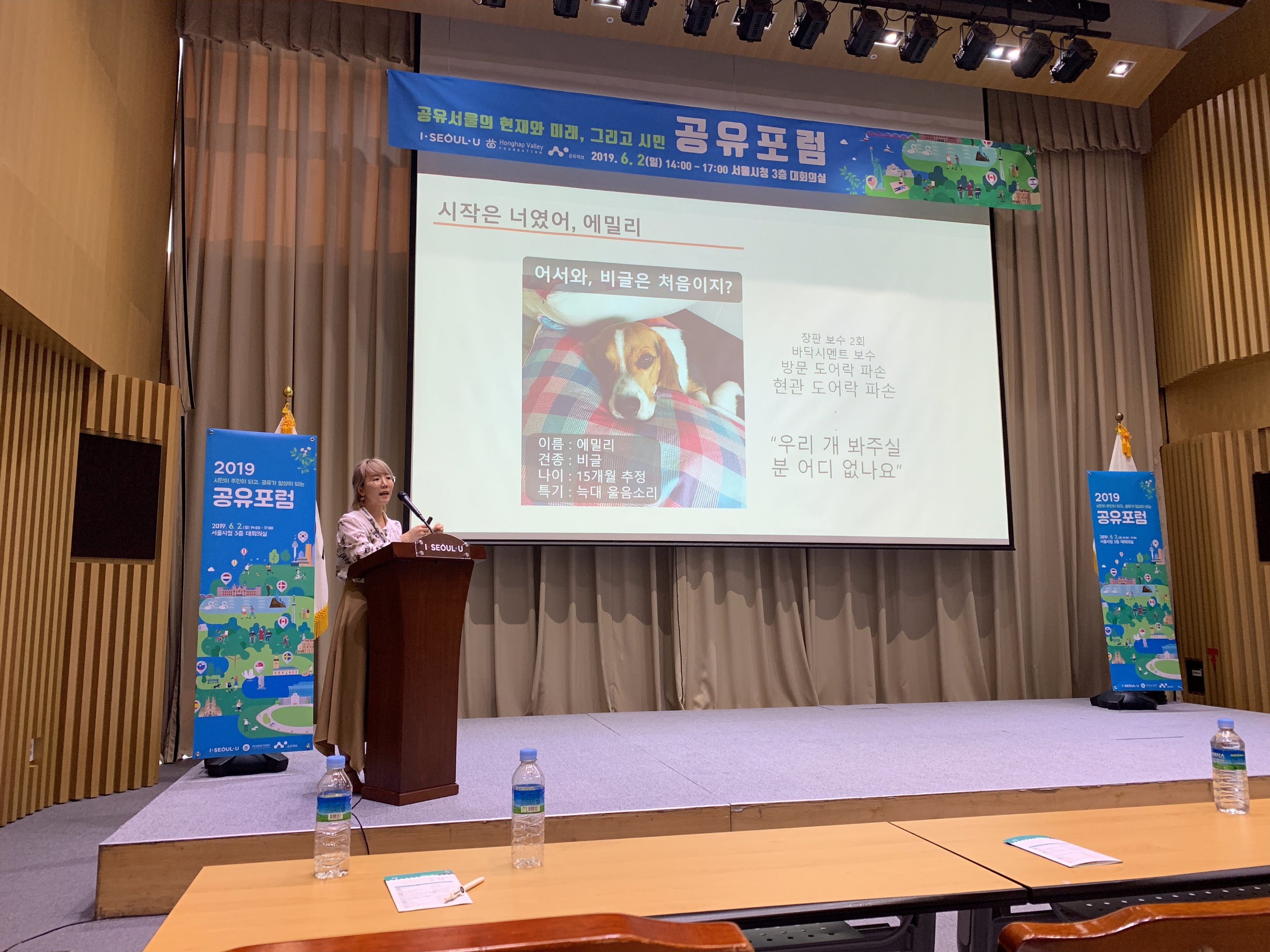 The announcement by the Bandal Company CEO Seo So-yoon began amid a pleasant reminder of the once-popular video, 'Hey! Don't make the dog bark!'

CEO Seo So-yoon has brought up the story of his adopted companion, the beagle 'Emily.' Emilie said the symptoms of separation anxiety were so serious that she barked a lot, which led to a lot of complaints and sometimes even quarrels with neighbors. So Seo thought that although he had tried pet-sitting services and pet-hotel services, he felt a problem in terms of the reliability of the service, such as the visit of the pet sitter and the transmission of the disease at the pet hotel, and that other partners would have similar problems. A pet care platform called 'Bandal Company' was created that allows neighbors to take care of each other's pets.
Bandal Company is actively working on a 'world where all non-participants and partners live happily together with their pets.' As a representative, it has created a pet-sitting platform where care can be provided or received from registered neighbors as members, and is hosting the "Fallzzack Festival," a cultural festival with companion animals. There will be a "pole screening" at the Mapo Cultural Festival every month, where visitors can enjoy movies with their pets, and a Pet-loss workshop is also underway to heal wounds by preparing for their separation and sharing their experiences. In addition, he is leading various campaigns including a workshop on making wheelchairs for pets, making necklaces for pets, and reading books for pets.


The announcement was concluded with Suh's story that a village is needed to raise a companion animal, as the saying goes, "To raise one child, you need one village." Bandal Company, which was chosen as a common company this year, is working to create a community that can live happily with pets in the village.

Bandal Company
- CEO: Seo So-yoon
- Homepage: http://www.bandal.kr/
- Phone: 02-304-6050
- Address: Social boxes in 87 Cultural Heritage Sites in Jeungsan-ro, Mapo-gu, Seoul
- How to Use: If you wish to use or sign up for the service, contact bandal.joinus@gmail.com
- Introduction to the Shared Hub homepage: http://sharehub.kr/sharestory/news_view.do?storySeq=1659

The Seoul Sharing City Forum 2019 was wrapped up after the announcement by Suh So-yoon, CEO of Bandal Company. One citizen said, "In fact, I didn't know what the forum was and felt far away. But when I heard about it, I thought that sharing could happen in our daily lives, just like taking care of our neighbors and pets, and sharing a suit that I don't wear with someone who needs it. It was never a difficult topic. I think I'll be more interested in the topic of 'sharing' in the future."