List
Story > NEWS > Detail
A Teenager's Yard, Youth Zone- "Seongbuk Zero Gravity Zone"
Nowadays, young people must follow a certain modifier. "N-Generation". This means that they have to give up a lot to survive. They give up a lot things yet the society ask for many things from them. It is hard for young people to live in a society with increasing desperation. However, Seoul City has prepared a space for young people to share their lives. It is called "Seongbuk Weightless Zone." The zone is a community space for young people based on Seoul's youth ordinance. It is established to free young people from society press (marriage, employment, study, etc.) and assist them to do what they desire.
Anyone between 19 to 39 years old are welcomed to use the space and participate in the programs. Young people can always share their thoughts, experiences, and even minor worries with each other in the space. This is the perfect place for the public.
Starting with G Valley, Geumcheon-gu, Seoul in January 2015, Dongjak-gu Daebang-dong in April, there is a total of six "Weightless Zone" in Seoul this year, Yangcheon, Dobong, Seongbuk and Seodaemun. Each zone is reflecting the characteristics of the districts and regions.
The recently opened "Seongbuk Weightless Zone" in June 2018, is commissioned by the Youth Cooperation Association, "Seongbuk Shinna". It helps the discovery of the civility of youth and share the problems they are currently experiencing with their fellow citizens and try to help them in finding a solution. It provides a physical space to carry out various projects to create a social zone(commons) for young people and form a community for young people.

"Community Hall", a place to meet, talk and discuss with various people, and 'Agosiktak', a space where you can gather with each other while eating your own food, can be used freely without reservation. However, if you wish to cook other than the fixed cooking time (1200 to 1400 and 1800 to 2000), application for "Agosiktak" is required. The space is available from 10 a.m. to 10 p.m., from Monday to Saturday (until midnight from August to October).
Besides space rental business, there are also some new and popular programs. These programs are carried out based on the thoughts of the operator, Oh Reum,"For youth to learn between society and generation gaps," and "Receiving program proposal plans for the teenager organizations or individual teenager."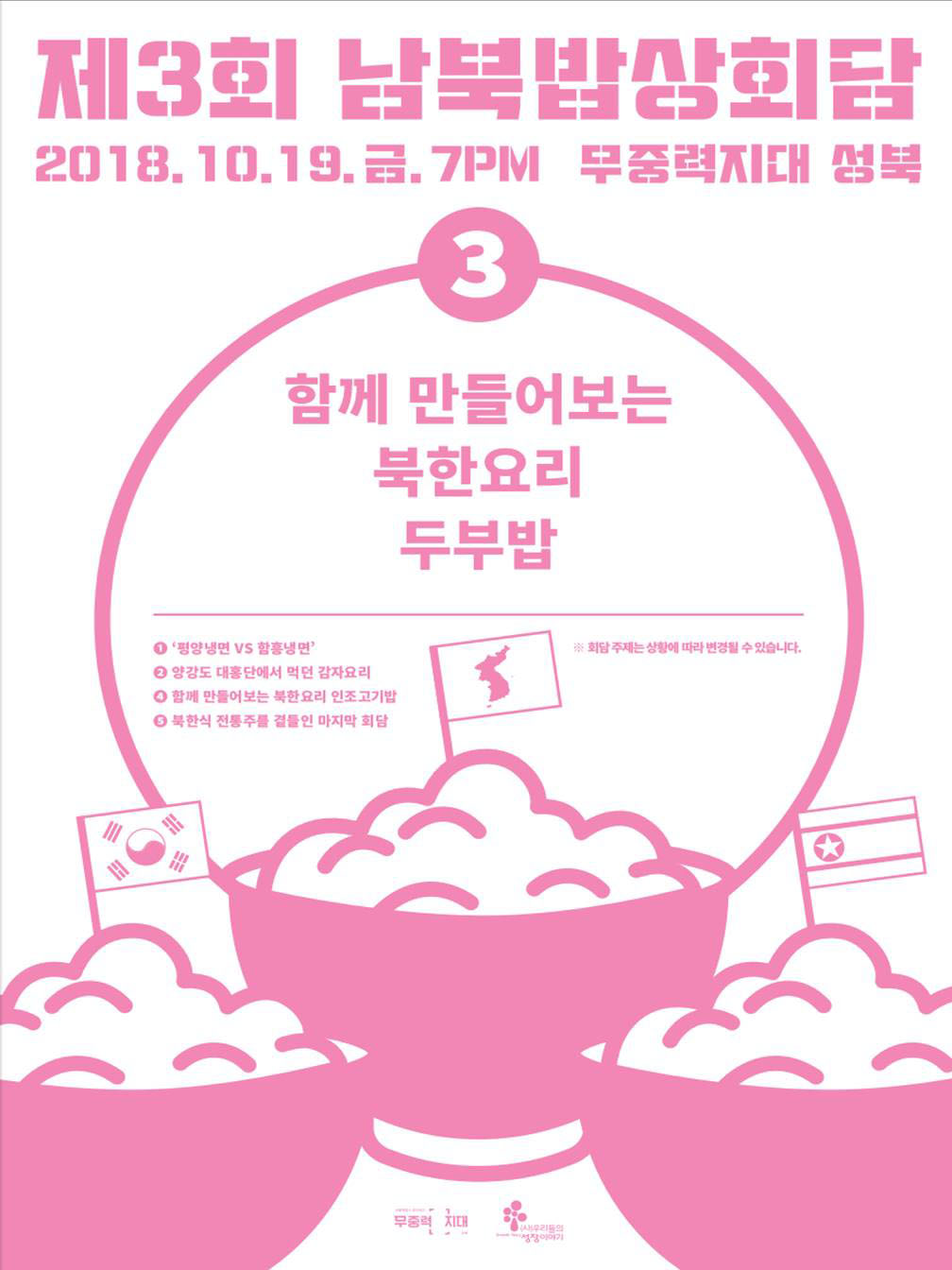 One of the most responsive programs among young people is the recent women-center soccer program called "Foot-Yeohaensub". The reason is that "It is time to focus on society weakness and women's bodies. However, there are not enough safe communities can be participated, so it is difficult to work out. However, I think many people are happy with the program."
The program "South-North Korean Rice Summit" where people can interact with North Korean defectors through food is also well respond. Young people's positive respond towards these programs is the evidence that more and more people are paying attention to social trends and diversity.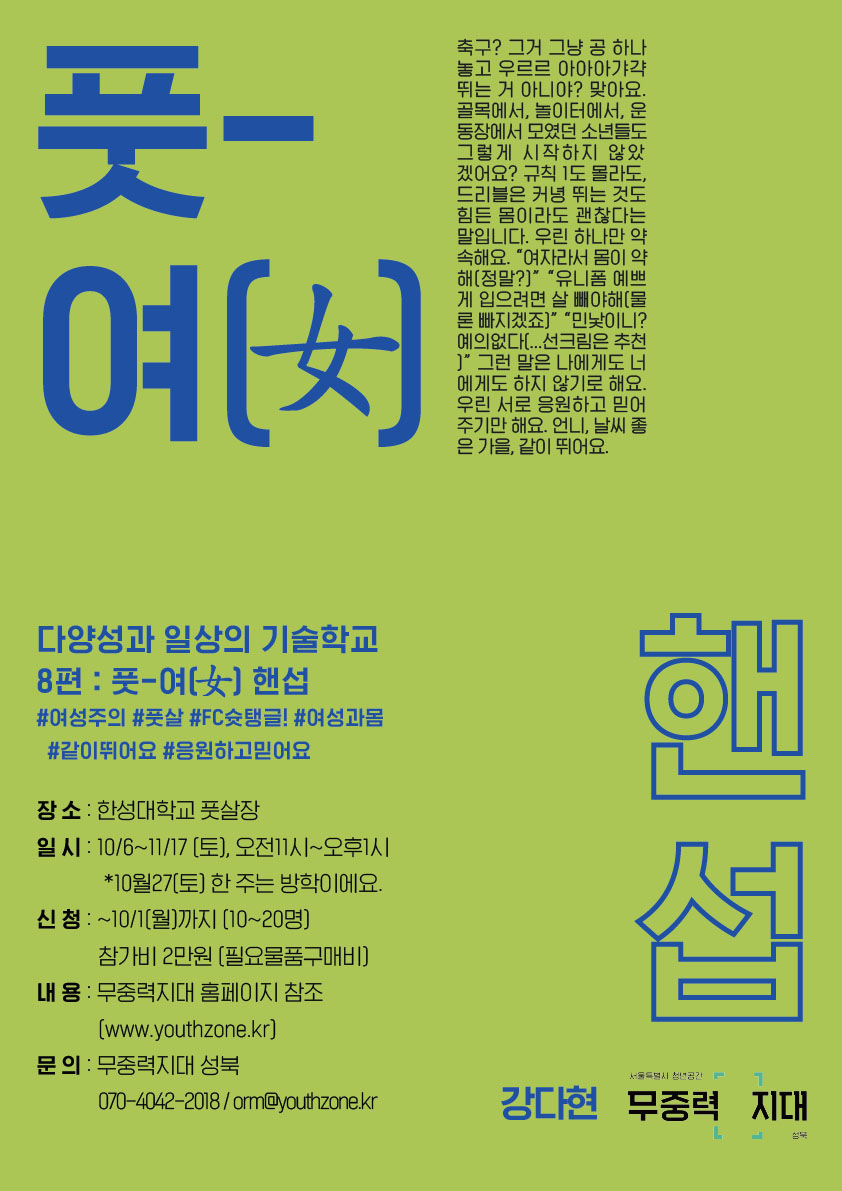 "Seongbuk Weightless Zone" is still open and operated, although it still lacks something and faces some problems, the space and programs that young people needed are always their main concern. "Weightless Zone" is making effort to lead the way and making further improvement for those who love space or business.

"As part of the city's youth policy, we expect the "Weightless Zone" to be a good partner of the city as many young people come to visit it, not just simply a place, but a complementary partner which needs each other."

According to Oh Reum, "The zone helps young people, space and program users to express diverse voices without targeting any specific markets. "Seongbuk Weightless Zone" forms a zone beyond space in cooperation with the youth groups/organizations in Seongbuk-gu or with the space in Arirang-Gogae where Seongbuk is located. "N-Generation". Today, we are expanding and promoting "Weightless Zone" for our young people, who are accustomed to giving up, encouraging them to challenge without fear for failure, and preparing space to share their experiences with each other and grow together in this shared space. For those who are still worry and undecided are recommended to visit the homepage(http://youthzone.kr/) for more information.

<Seongbuk Weightless Zone>
- Address: (147-10 Dongseon-dong 5-ga) 50 Arirang-ro, Seongbuk-gu, Seoul
- Contact: 070-4042-2018
- Email: sb@youthzone.kr
- SNS: facebook.com/youthzone

- Public transport
Subway Line 4, Sungshin Women's University Station, Exit 6.
Ui New Line, Jeongneung Station, Exit 1 (both Line 4 and Ui New Lines take about 10 minutes by walking)
Intermediate bus: 162 / Green bus: 1014, 1162, 2115 / Town shuttle bus: Seongbuk 20

- Space Information
Community Hall (10~50 people), seminar room (1~15 people), and Ago Restaurant (1~15 people)
Visit without reservation and use freely (exclude seminar room)

- Space Application
Community Hall: Only available on Sundays and holidays (Apply at least two weeks in advance)
Agosiktak: Other than the designated cooking time (12:00-14:00 and 18:00-20:00), application is compulsory
Seminar Rooms: 10:00 to 22:00 on Mondays and Fridays, 12:00 to 22:00 on Saturdays (Application is compulsory)
Application link: http://youthzone.kr/apply_zones?category=seongbuk