List
Story > NEWS > Detail
[UNIV Reporters] Combine Life and Art, 'The Life Art Fair 2018'

Most would imagine these about an art exhibition: luxury suit and uncomfortable shoes, going back home with nothing remaining but bluff that you were in the exhibition.
Of course, people who enjoy the art exhibition do exist, but you may admit that they are not major in Korea. George Dickey, an aesthetician, defined 'recognition of people' as one of art's condition. That means what is shown is as important as what is created in art. In this side, it is easy to guess that both who does art and who enjoys art are not under easy condition. There are people who are active about popularization of art enjoyment in this barren land. They are 'ArtTrip', the company which is working on life-stick-art project. ArtTrip is a share enterprise, which makes the society healthier by culture settlement of sharing life through art.

If you want more about ArtTrip, check out the interview article of co-CEOs, Byun Ji-hye and Lee Min-Jung. (Link: [UNIV Reporters] Life Sharing Through Art. "ArtTrip")

ArtTrip held 'House Art Fair' for the first time in this country. Art fair is a market where several galleries buy and sell art. Buying and selling art still has high entry barrier in this country even though people who buy art works increased compared to the past. Also, there are a lot of people who buy art works for speculation. Thus, ArtTrip is planning to lower the entry barrier of art and expand the culture of buying and collecting art works through the society by 'House Art Fair'. The ultimate virtue is making healthy society that shares important life virtue through cultural exchange between new artists and buyers.




Last year's art fair was held in a 496m2 guest house of Yoennam-dong, Mapo-gu, recording about 1,000 visitors. 'The Life Art Fair 2018' was held in a two-story-detached house studio of Sinsu-dong, Mapo-gu, from October 4 to 7. 46 artists took part in the fair and ArtTrip's another project 'Cheong Mun Gong Fe' performed in October 5 and 6.

I visited the fair on October 4 and experienced it.


As mentioned slightly in last article, 'The Life Art Fair 2018' was designed for the best comfort of visitors to speculate in the house. The biggest feature was that there was no control line in front of the art work, so people could watch the piece very closely and some pieces were even able to touch. This method was adopted to lessen the distance between audience and art works.




However, it has possibility of damaging the art work. To solve this problem, ArtTrip placed more docents (who explains about exhibit to people in museum or gallery) than other exhibitions. Close distance to the art work and placement of many docents make people to watch easily and interestingly even though they are first to appreciate exhibition.
Another big feature of the house art fair was that people can appreciate the art work comfortably just like they were at their home. People could watch the exhibition with freely using the furniture there as they want. Unlike ordinary stiff exhibition, people could enjoy comfortably just like they had bought the art work.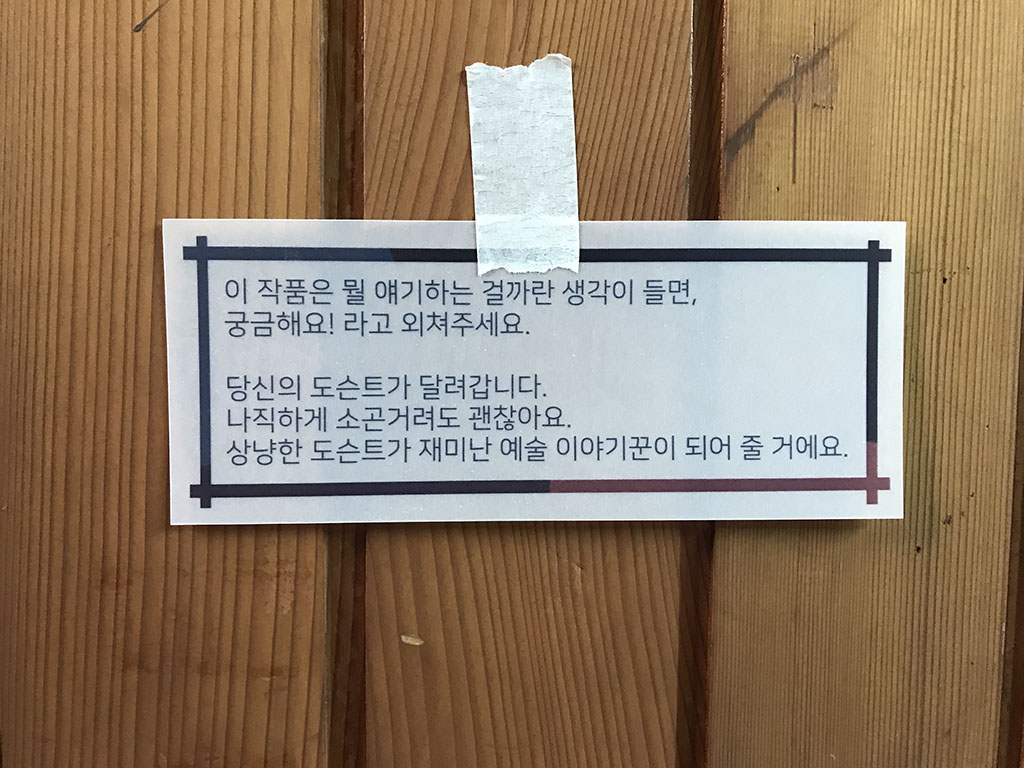 Artists who took part in the exhibition also explained about their work in places. Especially, I was inspired by explanation of Yu Kap Kyu(@kapkyu_yu), who made serial work comparing life to glacier fall, and Kim Hyung Ju, who expressed loss of relationship as lacrimal point with shells. It was very fascinating to listen to explanation from who can explain the work than anybody else, and to exchange emotion.




Even 'The Life Art Fair 2018' had finished, ArtTrip's walk will continue. What I felt during covering ArtTrip for twice was that art does change one's life strongly and softly. I, the reporter, also felt pleasure and touching while watching many art works even though I am far from art. Moreover, I could feel art spread all over the life already, watching people coming out from the exhibition with their kids just like they went to a walk and having a small talk with each other.



I cheer for ArtTrip's walking that sharing life and art steadily and silently.

ArtTrip Facebook : www.facebook.com/artstay.world
CEO Byun Ji-hye email: ssalbug@nate.com
CEO Lee Min-Jung email: biikjo01@naver.com