List
Story > NEWS > Detail
Life Sharing Through Art. "ArtTrip"
"I want to create a symbiotic society through everyday sharing of art works and the joy of living by appreciating and experiencing art works."

ArtTrip is a company that continues its life-oriented art project that lowers the threshold of art in the most daily life spaces and freely communicates with modern artists. Instead of galleries, numerous projects which display works by artists in the most comfortable spaces called homes were conducted, and "House Art Fair 2017" was held in 2017 in a guesthouse at Hongik University, where through the sharing of art combined with life, art works are spread widely. Currently, it is working on a project that breaks the boundaries between everyday life and art through "Routinart Project (Cheongchun Culture Sharing Festival)".
Site: https://storyfunding.kakao.com/episode/43902#none
ArtTrip means the intersection of art and travel. Three co-leaders who ran guesthouses are working on various projects that integrate art and travel from the beginning of the exhibition to tourists from all over the world.

"We see the meaning of travel comprehensively. I think I can not only travel to other countries and cities, but also to travel to art in everyday life."
During the heat wave on August 14, interviews were held with co-chairmen, Byun Ji-hye and Lee Min-Jung at the office of Mapo-gu, which also serves as space sharing.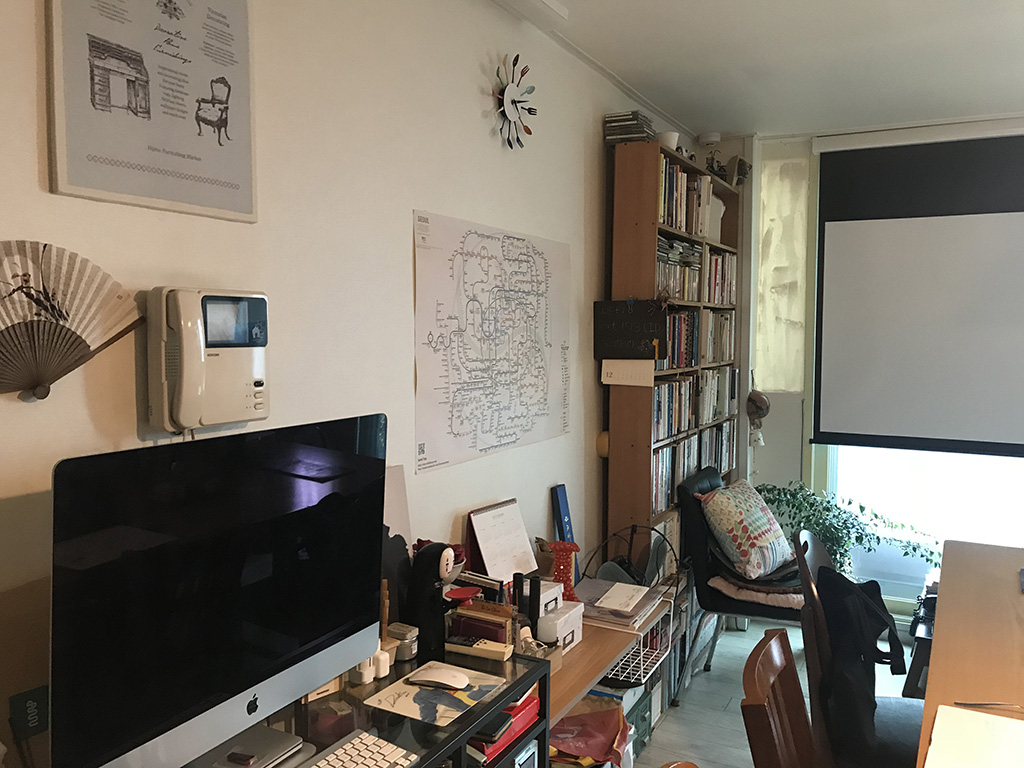 Q1. Currently, how large is the scale of ArtTrip?
Lee

-

ArtTrip currently has four co-leaders and a team leader, a total of five people are working together. The project is divided into two teams, the Exhibition Planning Team and the Routinart Project Team, which is a complex cultural performance combining exhibition and Indie performance. We are currently working as a team and have celebrated three years this year. We mainly display active housing-space sharing.
Q2. What is the value that ArtTrip would like to share?
Lee – Basically, we're a shared company. Although Seoul is a space that has diverse and sufficient contents for cultural reasons through art works, I don't think there has a culture where people can enjoy art without a sense of distance. Many people enjoy movies and concerts without sense of distance, but not with art museums. Therefore, we want to create a culture where people can experience art very closely. We want to create a virtuous culture where people can enjoy and purchase works by artists nearby. We want to justify the culture through the art we share, and even lead to symbiosis. Through this, we're going to build a culturally healthy city.

Q3. What made you decide to start ArtTrip?
Lee – While I was running a guesthouse and talking with people from various countries, I realized that there is no culture which we can experience and enjoy art closely in Korea. For example, it's common for them to go to art galleries, see exhibitions, and buy local artists' works. Although the artistic experiences in Korea have increased compared to few years ago, it was the first time that we had the question of "Why can't we enjoy it easily?" Based on that awareness, the people who run guesthouses started thinking about "joyful culture," and then came to think, "What if we create culture?"
Byun – I also thought about what would cause the foreigners in the guesthouse visit Korea again. The art experiences that I could recommend to them were the ancient palaces, and of course, the palaces were indeed good cultural heritages, but I felt that there were no enough unique experiences to enhance the unique characteristics of the area. I wanted to solve this through culture and art.
Q4. What is the most memorable project?
Byun – I think the most memorable project is the art fair I first started last year. Even if there's enough space to enjoy, there is no use without an audience to enjoy it. The Art Fair we hosted was about 1,000 people, and pieces of artworks by artists were bought. Although we had fun time, I thought it did not reach our goal.
Lee – Around 80 percent of the people who bought the first piece. We wanted people who didn't know about art to be one step closer to it, and I was very proud of it. We also had an art work exhibition while lying on beds, and it was very good. Some people say that they are still in touch with the authors after the first exhibition in their lives.
Q5. What is the challenge when working on the project?
Lee – Security issues had occurred since there were many hands-on displays. So, more staffs are placed compare to any other exhibitions, but problems always occur for the displays are close-distance displays. Since it's not a typical exhibition, insurance is also one of the problems.
Byun – It's not easy to install since we have exhibitions in a house, not in a gallery.

Q6. What is the future goal of ArtTrip?
Byun – To make people to enjoy arts with open hearts and do not feel difficult about arts. I also want to enrich people's lives through the joy of arts.
Lee – I hope Seoul will become a city that loves culture arts, especially arts. The goal is to make the lives of Seoul citizens more comfortable and affluent. In particular, ArtTrip is working on projects focusing on arts and trying to combine them with Indie Music.

Q7. Please say something to Seoul citizens who are not yet familiar with the shared economy.
Byun – I hope we're not limited to just one culture. You can enjoy arts around you if you try to look at culture and art that you have never tried before. It would be better if everyone expands their own cultural and artistic sphere.

"I hope Seoul would be the city that shares daily lives, shares lives and finally co-exists through sharing works of art."

Why don't you experience ArtTrip that makes the lives of Seoul citizens filled with various cultural arts? "The Life Art Fair 2018" will be held during Seoul Sharing Festival at Sangam-dong in September, and "The Life Art Fair 2018" will be held at Gwangheung Chang Station in October.
ArtTrip
- Facebook:https://www.facebook.com/artstay.world
- Representative Byun Ji-Hye: ssalbug@nate.com
- Representative Lee Min-Jung: biikjo01@naver.com