List
Story > NEWS > Detail
Sharing Forum at Seoul Sharing Festival 2018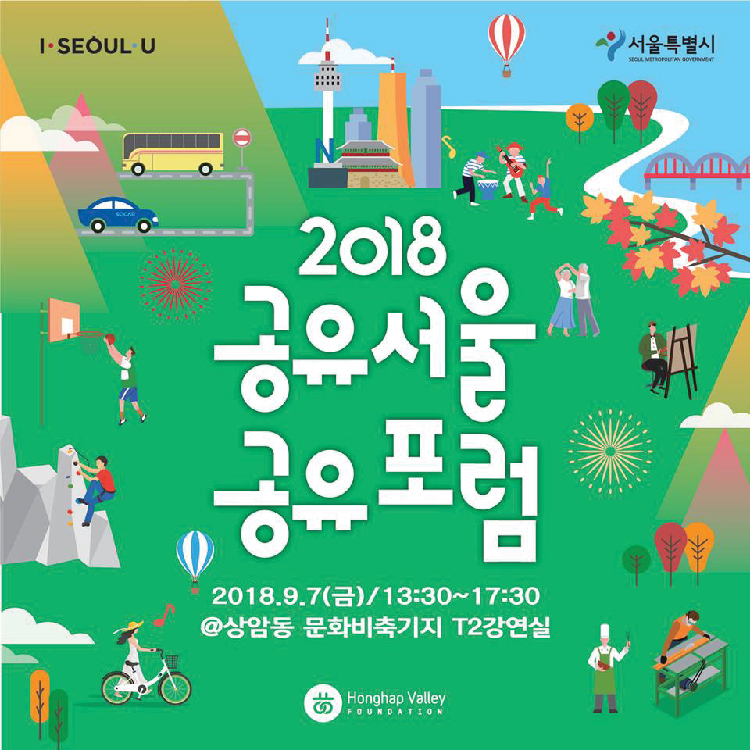 Seoul Sharing Festival 2018 was held for three days continuously from September 7, Friday to September 9 at Cultural Heritage in Sangam-dong.

A shared forum was held to review the achievements of shared policies and to set future visions together with experts all around the world. In Part I, there was a lecture on the current state of shared economy policies while talk on the effects of shared economy to life was held in Part 2. What was it about in Part 1 of the forum?

The shared city of Seoul is planning to create a city where citizens' lives have been activated in a new way by sharing a shared sustainable city, a city where citizens are happy with their vision.'

To make Seoul a shared city, the Seoul Metropolitan Government is conducting various shared activities. First, Seoul Metropolitan Government Sharing Promotion Committee is operated to verify shared organizations and companies, and conducts assessment to support project cost. In addition, through the Seoul Shared Hub, the values of sharing are promoted and the shared businesses that are close to daily life are also being carried out.

Seoul Metropolitan Government is operating 'Seoul Shared Hub' (http://sharehub.kr), which introduces shared information and companies/units and connects active sharing services. 'Shared Hub' is a media that introduces shared activity services and sports, and it is a platform for direct participation in the sharing activities. Through Share Hub, shared culture can be accessed to more people and the values of shared economy can be spread.

Seoul Sharing Festival 2018 is similar to the "Rooftop Festival" (https://bit.ly/2LUEL3u) organized in Seodaemun District, which the festival is held to create a shared city that seeks social value.

There are shared services that focus on the conservation of the environment through reduced resources consumption and joint use of limit resources. A typical example is 'Seoul Nanum Car,' a service that provides shared vehicles that can be used whenever and wherever necessary, as convenient as one own's car.

Shared city can generate economic revenue by launching new services based on shared activities. By forming an agreement on urban and social problems, civic-based community activities can be promoted, and the consumption of finite resources can be reduced through shared activities and thus the city's environmental sustainability can be enhanced.
New shared areas should be continuously explored to ensure diverse sharing, while connections and partnerships among shared companies should be active. In addition, it is very important to actively promote various policies and services related to sharing so that citizens can understand the shared culture and industry.

- Seoul Bike : Visitors can rent and return bicycles wherever rental is installed.
- Seoul Nanum Car: This service enables the use of vehicles whenever and wherever necessary, without the need of owning a vehicle.
- Shared Hub: Shared Hub is a media that introduces related services and activities so that more people can experience shared culture and establish a diverse set of shared activities in the society, and at the same time it is a platform for direct participation in the sharing activities.
- Gomaun Nanum Parking Lot: Seoul Metropolitan Government and the local community support the facility improvement expenses, if the owner of the building shares the space of the building's parking lot with neighbors. Drivers can use the parking lot at 2~50,000 won per month.