List
Story > NEWS > Detail
The results of the 2017 Seoul City Sharing Village Construction Project have been revealed.
The Seoul Metropolitan Government held an autonomous region contest regarding the Sharing Village Construction Project last June 20, 2017, and selected a shared apartment project in Seongbuk-gu last August.
After which, Seongbuk-gu underwent a briefing session with the residents regarding the sharing village project then held the shared apartment contest. Two apartments in Seongbuk-gu (Kumho Oullim Center Hill in Gireum Station and eComfortable World Bomun Apartment) were selected, and the Seoul Metropolitan Government provided KRW 12M for the project's expense.
Shared apartments are apartments that open and share various idle resources between local and nearby residents for the purpose of creating an open residential space that focuses on residential communities in apartment complexes.
It illustrates a new way of living in our apartment.
eComfortable World Bomun Apartment, the second shared apartment in Seoul, displays the signboard hanging ceremony and introduces how it was built as a shared apartment.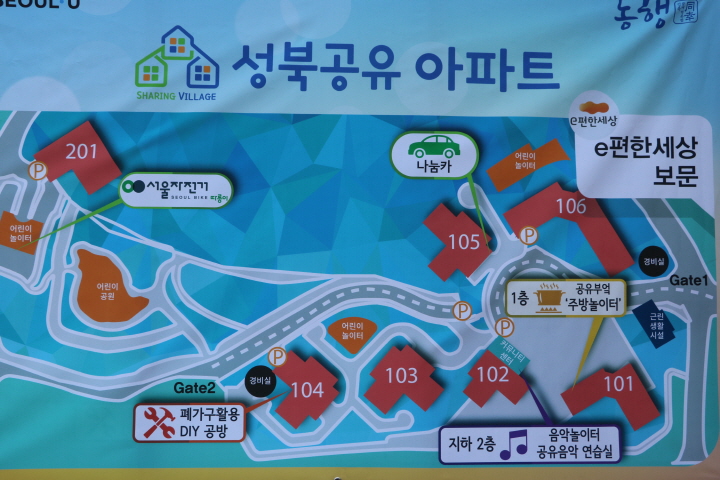 eComfortable World Bomun Apartment includes Ttareungyi, a public bicycle-sharing project in Seoul City, and Nanum Car (Green Car), a car usage service, installed on-site.
At the time of the contest, a kitchen playground and music playground were created, both proposed by the apartment.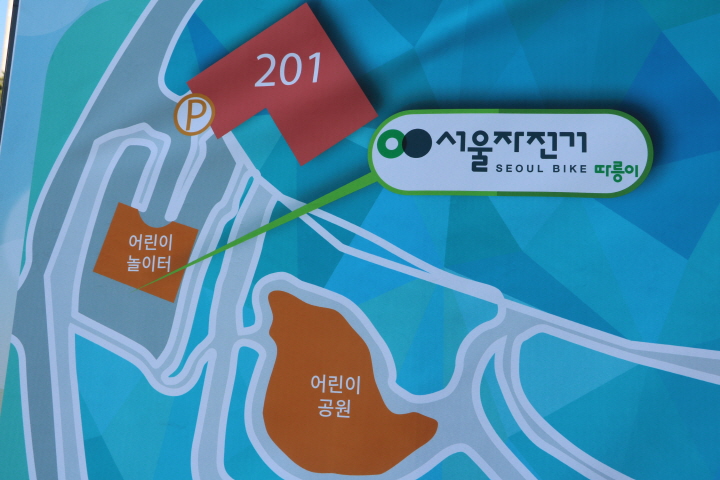 Ttareungyi, Seoul City's public bicycle sharing service, is one of the most used sharing policy by Seoul citizens with a high satisfaction rate. This was placed in the children's playground with the aim of improving accessibility.
There is a big pavilion situated in the children's playground next to the Ttareungyi stand; as such, it also serves as a space for those who are tired to take a quick break, making it the best location.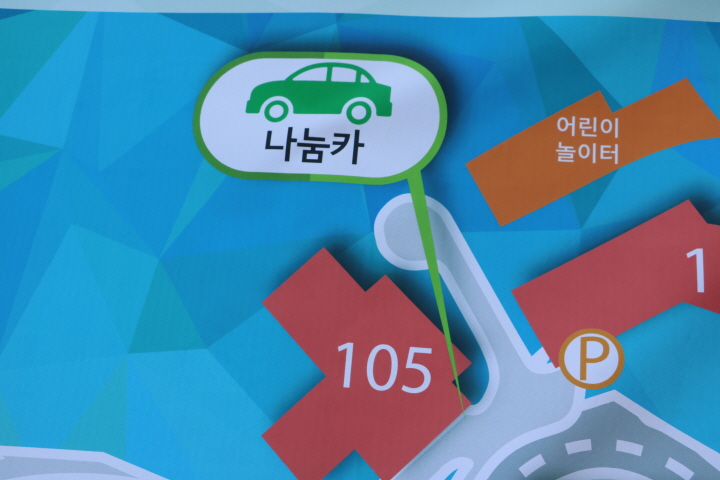 Nanum Car, a car sharing service, is built at the nearest parking lot of the apartment complex and thus expected to yield a high utilization rate among the residents.
A gu (borough/ward) official mentioned that there is a demand for convenience when it comes to transportation, as Seongbuk-gu includes numerous hillside areas. He also talked about the necessity of car sharing services and public bicycles, as well as electric bicycle sharing services in the future.
This is the façade of the shared kitchen, proposed by eComfortable World Bomun Apartment.
The official name is "Kitchen Playground", which uses the senior citizen community center as a shared kitchen, so residents may create seasonal side dishes and share these for a side dish poomasi (communal sharing of labor).
Moreover, it operates with the purpose of communication and harmony with neighbors through cooking programs with children and recipe sharing.
The music playground, which is the core sharing project of eComfortable World Bomun Apartment, addresses a relevant situation.
This is the noise complaint issue. Isn't there a way for children to play instruments freely, as much as they like?
eComfortable World Apartment was also looking for solutions to resolve these noise complaint issues, and that's when they decided to use a shared space.
They created a music playground by using an idle space.
In the music playground, various musical instruments, including the piano, are provided for use, and one of the residents who have majored in music is planning to run an educational program.
A stage will be utilized as a family concert or a village concert, transforming the apartment into a place of communication and culture. Together with music, it will be operated as an area that aids in the formation of artistic sensibility and the development of creativity, both necessary for the fourth industrial age.
An apartment official said that even adults who would've wanted to play their saxophones may freely get out of their bed and head to the music playground as much as they want.
Kim Beop Sun, the Representative Chairman of the Residents, revealed, "As we were building a shared apartment, I felt anew the weight of the tax paid by the sweat of the citizens' brow, and proceeded the project by composing a general affairs team composed of four members.
Now, the kitchen playground will be heartwarming with all the healthy food and the practice of sharing economy, while the music playground will have various play experiences, musical instrument sharing, and family concert, making it an apartment that possesses communication and culture."
In particular, he mentioned that there is a happy music program, the music playground's first project, to develop the brain of infants and children; consequently, he is asking for everyone's interest and participation.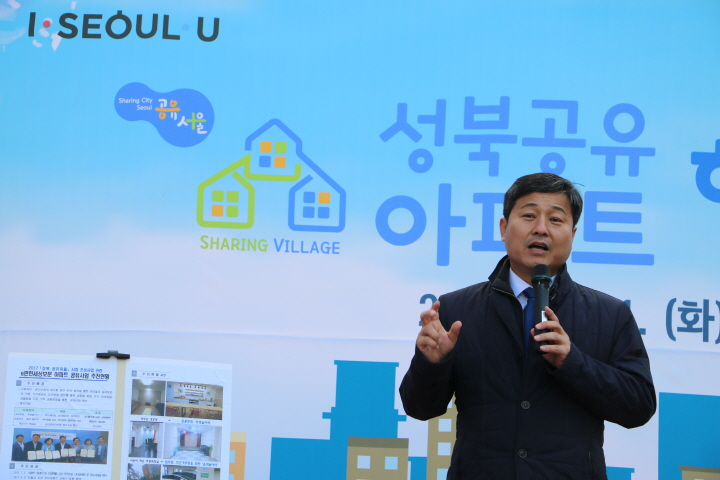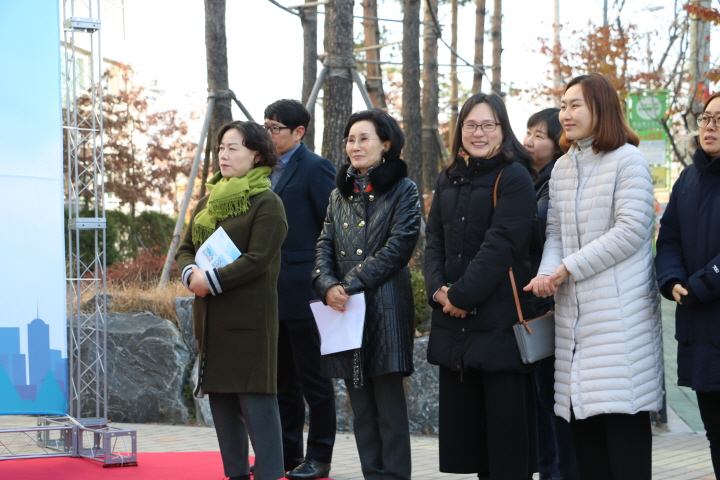 Kim Young-bae, Director of Seongbuk-gu, said, "The kitchen playground and music playground are writing a new history for our residential culture. Upon seeing the kitchen playground, who would even regard that it is the senior citizens' community center? Isn't it so finely done? The music playground utilized a new space that hasn't been done before. I look forward to the various communication and harmony among the residents through the music playground."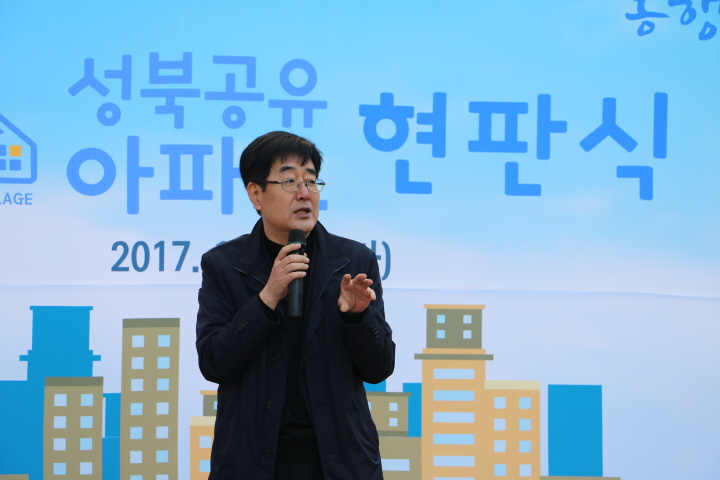 (Jeon Hwo-gwan, Director for Innovation, Seoul)
Jeon Hwo-gwan, Director of Innovation of Seoul City, said, "The Seoul Metropolitan Government supports the project, and the actual shared apartments will be created and developed by the residents.
If a commendable sharing culture is created in the apartment, Seoul will change and this shall eventually take place nationwide. The Seoul Metropolitan Government will continue to actively support such a good culture in the future."
(Kim Moon-soo, Seoul City Councilor)
Seoul City Councilor Kim Moon-so exclaimed, "I have lived hard for myself; but in retrospect, there was something I felt sad about. Real happiness is sharing love with another, instead of just myself, and offering assistance to our neighbors. It makes me reflect that being together makes us happier.
City Councilors of Seoul will continue to render their support so that we can have kinder cultures such as this."
(Kim Gu-hyeon, Seoul City Councilor)
He said that he just came from the Kumho Oullim Center Hill Apartment's opening ceremony, which is the first shared apartment, and now arrived at the ceremony for the second apartment. The shared apartment project is sharing the space and culture of an apartment even with other residents, and to make friends with one's neighbors. He said that apartments should be developed into a society where people live together, instead of it being a separated society for individuals, and then talked about securing more funds.