List
Story > NEWS > Detail
Sharing Economy Startup School : Sharing A to Z
OEC, a center for entrepreneurship, has run Sharing Economy Startup School that is aimed to help people develop a model to realise their business idea around sharing economy or sharing project idea. Throughout the Sharing Economy Startup School Season 1, 2, and 3 and Sharing Economy Academy, various projects have been turned into reality including a hanbok sharing project and a data sharing project.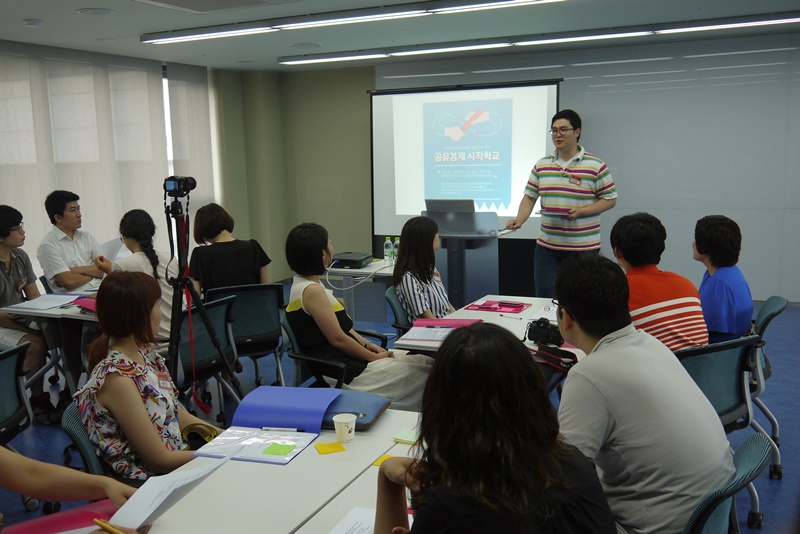 CC BY_OEC
Sharing Economy Startup School is a work of collaboration based upon trust

Sharing Economy Startup School is an education program push ahead with by the Social Innovation Bureau of SMG. The first class completed in August 2013, the second class in March 2014, and the third class in June 2015. For each class, students attended 5-6 rounds of lectures on Saturdays. SMG has commissioned the management of the school for each year to OEC; SMG commissioned the overall management of the school to OEC, except determining the number of sessions and objectives of the courses.

Yeong-hwa Jang, CEO of OEC, says it is "a collaborative relationship based upon trust." "We don't ask for Seoul's permission or approval when we decide a venue or accept applicants. The faculty makes the final decision on accepting students. Among applicants who thought about sharing economy and presented a business item based on it, we pick out some by reviewing applications to see whether their business items were for the public good or for commercial purposes in the initial screening, and then the faculty makes the final decision."

Experience in running Sharing Economy Startup School made it become a "sharing economy tutor" for local districts

OEC expanded its entrepreneurship program for startups conducted in 2010 to young adults, teenagers, teachers and parents. And thanks to its knowhow from that experience, OEC has been commissioned by SMG to run the Sharing Economy Startup School. Its experience of running the school program for 3 consecutive years also in turn gave OEC an opportunity to organise education programs on sharing economy in Mapo-gu and Seongbuk-gu. Mapo-gu and Seongbuk-gu ran Sharing Economy Academy for its residents in March and April 2015 and OEC was in charge of the management of the programs.