List
Story > NEWS > Detail
In the 2015 Smart Cloud Show held from September 16 to September 17, there were sessions about sharing economy and Sharing City Seoul.
April Rinne, who is on the Advisory Boards for Seoul Sharing City and was visiting Korea this time to attend the session, and Alex Stephany, CEO at Just Park, a p2p parking website, was sitting down together with ShareHub and several sharing companies designated by the Seoul City Government.
Let us share what was discussed during the 2-hour-long tea time conversation!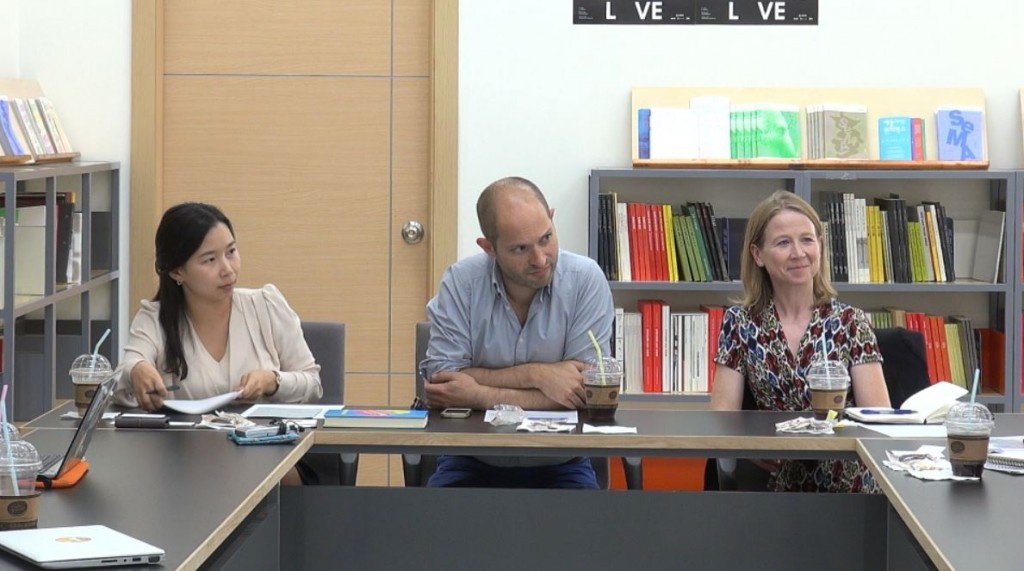 Image: Sharehub CC-BY 2.0
The conversation was began with a question by Dong-Hyeon Kim, CEO of Modu Parking.
Dong-Hyeon Kim (CEO of Modu Parking): I think sharing economy per se is not a purpose but a means of business. What does sharing economy mean to you?
Alex Stephany: When I started my business, there was little understanding about sharing economy among the public. And I was not setting my goal on running a sharing business at first. My initial motive behind starting the business was to solve problems. To solve tangible problems.
Kim: How have you built business relations with existing parking services and from what perspective are you currently collaborating with them? In addition, what influence sharing companies are making on the existing marketplace?
April Rinne: I think we need to solve a problem through negotiation. Uber, for example, doesn't take the bull by the horns, but rather try to enter the market first without authorization and then if they get in trouble, they step out. Meanwhile it seems Airbnb's approach is to consult with local policy makers and to anticipate potential problems and solutions. Many sharing companies tend to see things from technical perspectives only. But the approach that doesn't engage a close cooperation with the local community has a potential to cause a backlash.
Stephany: The economy cannot be defined in a single word. And the wealth generated by the economy is not well distributed. But if you look at the case of Uber, if there is a taxi service like that, more people use taxi, which in turn creates a favorable atmosphere for consumption. And that I think can have a positive influence. And we cannot stop there. We need to take an approach of collaborating with existing industries. For me, I have become friends with several hotel enterprises and collaborated with them. Any society doesn't like to step backwards. You cannot keep innovation from happening, and we need to try to solve many problems in our society through technological innovation and mutual concessions.
Kim: Should sharing companies aim to actively cooperate with public offices (i.e. the government), or should they pursue their own way independently? Which do you think is a more appropriate attitude for an entrepreneur?
Stephany: You guys are very lucky because public services here in Korea are very much willing to cooperate. A better strategy is to maintain good relations with the government and to keep persuading them through storytelling, like politicians do. Institutions and regulations do exist everywhere, which I also have come to be well aware of through my experience in the UK, and to create a new innovation is to make a breakthrough. In this regard, I think you need to try to find people in the public services who care to understand and listen to you, and you just need to continue to persuade them.
Rinne: You should think about who you want to be connected with, what they really care about, and how you can build a business model through which you can create a working environment that helps more people participate in the labor market. Sharing economy creates more new jobs and enables more people to participate. This of course has a good influence in local communities, and you can use this rationale in addition to your own business story to persuade government officials. When you talk about engaging with the government, you often think it's difficult to work with them. But these days we are seeing more and more cases where the government directly approaches private companies. As a sharing entrepreneur, you need to understand the specific needs of public agencies and incorporate them into your business strategy. In fact, the economy works better when more people participate in it. And it would be useful to know that politicians would like to welcome this too because a booming economy means to them that they get more chance to be reelected.
Seon-Mi Seo (CEO of PlayPlanet): I heard that April Rinne traveled around 90 countries to get inspiration on sharing economy. Playplannet is one of the sharing economy services, a platform that helps people enjoy a sustainable and locally-based travel experience. This means it is necessary to maintain a close collaboration with the local community. But there is a lack of understanding of sharing economy in local communities. How can we overcome this and build a closer network?
Rinne: Good question. Everything you experience while you travel – from hotel, transportation to food – is related to sharing economy. When you think about tourism as an ecosystem, you need to look at our daily life and to see what has a potential for a sustainable development. And in order to see more growth of sharing economy in the tourism industry in particular, we need infrastructure. But in the Third World, there are areas where it's difficult to build infrastructure. But invisible infrastructure exists anywhere if there are people. I think sharing companies need to play a role to bring out such an invisible infrastructure to come out and play.
Stephany: You need to think about how you can sustain the values of the local community you live in. You need to think about what kind of collaboration you need to do with the local community; who are the main agents of the local community and what are the values they care about; what threats or new challenges from the outside have influence on the community and therefore what kind of considerations the community would need; and what are the needs of the people in the local community and what financial support they need. In a nutshell, you need to try to create a close bond with the local community.
Tae-Rim Park (CEO of Ino-on): How does Just Park communicate with local communities?
Stephany: Just Park has been of help to those who are in need financially. In the UK, more than 21,000 people are using Just Park. By using our service, they earn a small income and part of the profits of the company go to charities that help the local community. Just Park doesn't directly engage with the local community by providing support or distributing profits but has been engaging in various activities for local communities such as running a mentoring program for kids.
Rinne: While Seoul offers various ways for people to get information on economic activities, that's not always the case for most other societies. You need to have a better sense of what your local community needs. I'd like to point out that you are lucky because the Seoul City Government is committed to solving problems of communities very actively. You have an advantage in creating values and finding the sweet spot since the Seoul City Government is dedicated to become a pioneer in promoting sharing economy. You should think about how you collaborate with the government so that you can get the best out of it.
Image: Sharehub CC-BY 2.0
Jun-Yong Jo (CEO of Cine Egg): I'm running a start-up and new to the area of sharing. I'm running a small, locally-based agency that distributes independent films at a small space. In the past, I thought of sharing economy as an alternative to the current economy system. But now it seems to me sharing economy is actually more of another business model that grows in line with the existing economy system. Not only Seoul but also other regional governments are also making efforts to invigorate sharing economy. As a young start-up, what kind of PR strategy do you think should I pursue?
Stephany: When we started Just Park, the Internet didn't come into wide use as much as it does today. So we needed to run around to promote our services. But now you have the Internet and you can use it to do an effective PR activities. I don't think sharing economy is a whole new alternative. Sharing economy already existed in my father's day, in his local community. Even though sharing practices in his time were small in terms of scale, their generation did live by sharing. And now we are actively adopting that way of life to our economic activity with the support of technological development.
Rinne: Take an approach of solving problems of the local community. If you highlight that your service help us make our society better, you can engage with more people.
Kyeong-Hee Seo (SHAREHUB): Just Park recently started a service for electric vehicles in partnership with BMW. How did you first come up with the business idea? And how could collaboration between a large enterprise and a sharing company be possible?
Stephany: BMW approached us as they were establishing a new capital fund. Just Park probably has the largest network regarding parking spaces. In the past you had to contact investors one by one but now you can build network with large enterprises as long as you generate sufficient profit.
Image: Sharehub CC-BY 2.0
Around that time, the heated conversation around "sharing" finally came to a close.
Alex Stephany mentioned his business had been started from an attempt to solve problems around him – that may be a message that shows the meaning of sharing economy for us again.
Does "sharing" sound strange or obscure to you? If so, why don't you try taking an approach of solving a problem around you within the environment you are living in, just like Alex does?