List
Story > NEWS > Detail
Nanum Car : Alternative public transportation enabled by sharing
1 out of 4 citizens owns a car in Seoul. But 35% of them, i.e. 770,000 vehicles run less than 7,000km a year while 15% or 330,000 vehicles are on the road only on weekends. If it is easy to use a car when you actually need it, you don't necessarily have to own a car and pay lots of money to manage it. Moreover, less cars means less traffic congestions and less air pollution. In order to solve this issue, Socar worked together with SMG to start a car-sharing service.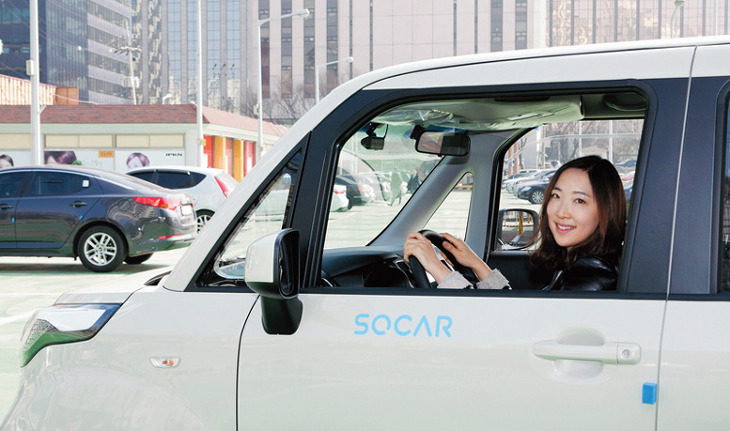 Socar
For Seoul's urban problems such as parking and traffic congestion Car-sharing service is a solution


Seoul is a mega city with a population of 10 million. And there are so many cars as many as the population. Whether it's a weekday or on weekend, the city packed with too many people and jobs is always in a parking war. The number of registered car owners reached 2 million in 1995 and it went up to 2.38 million in 2014. If commercial vehicles and vehicles for public officials are added, the number went over 3.01 million. And remember: this is only the number of registered in Seoul. If you add the number of cars commuting between Seoul and Gyeonggi-do province and Chungcheongnam-do province in to the calculation, the total number goes up even further.

As cars kept increasing, SMG was struggling hard to find a solution. Mayor Park said at the CC Korea International Conference held in October 2014 that a complaint he heard a lot from citizens was"more parking lots." So there was no choice but to find a solution to this problem. SMG created residential parking permit program for residential areas in 1996 and started a program that funded construction costs for people who took down fences to build a parking lot in 1999.

The parking lot project was implemented for almost 10 years. But SMG thought that was not a perfect solution. It thought it was not desirable if building more parking lots meant less space for other convenient facilities for citizens. So it was natural for SMG to turn their eye to car-sharing services with which everyone didn't necessarily have to own a car and still use a car when he or she needs it. And that meant no need of a parking lot per each household or each person.

And then private car-sharing services was starting to come into the market. Green Car and Socar were in the media spotlight and drew attention from interested people. SMG naturally decided to join hands with them instead of creating another service.


SMG provides parking lots and Socar provides service to all


SMG's Nanum car project requires almost no budget. SMG created the brand "Nanum Car" and looked for companies who provide their service under this name. Running a car-sharing service means a ton of work to do from buying cars, managing cars, creating a vehicle allocation system, building a system for user signup and management, to settling up fees. But using an existing private car-sharing service can address this.

SMG decided to commission the provision of car-sharing service to private companies and to provide parking lots instead. It conducted a research on how to make public parking lots that are prohibited to commercial vehicles accessible to the partnering car-sharing services. And in February 2013, SMG announced that it started"Nanum Car" service in collaboration with Green Car and Socar.

SMG had two requirements for the two companies: first, any Seoul citizen must be able to use their service, especially the disabled and their families, and low-income families; and second, it must encourage the use of public transportation. SMG promised that it would promote their services to Seoul citizens actively and secure parking lots that are key to car-sharing services.

Socar developed a benefit program where the disabled and their families receive 10,000 worth of gift coupon every month; people can rent a car for free if they use it for voluntary community work; families with income lower than 60% of an average household income receive 10,000 won worth of credit; and users who spend more than 40,000 won using a transportation card a month can receive a discount coupon worth 5% of their transportation costs. Socar started this as a program for Nanum Car, but has later expanded it nationwide.